Learn Arabic العربية
Learn Arabic تعلم عربي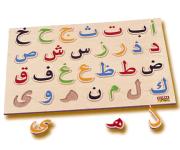 Learn in this section about the vast and rich Arabic Language. Prophet Muhammad (Peace be upon him) said: "قال صلى الله عليه وسلم: "أَحِبّوا العَرَبَ لِثلاث: لِأنّي عَربي و القُرءان عربِيّ ولُغَة أهل الجنّة العربية
This hadith saying means: "Love the Arabs for three: Because I'm an Arab, the Qur'an is Arabic, and the language of the people in Paradise will be Arabic".
And the one that loves God, loves his Prophet, and the one that loves the Prophet loves Arabs, and the one that loves Arabs, loves the Arabic language, which is the language of the Holy Qur'an. And remember, to read Qur'an, you must learn Arabic, and the key to learn Arabic is to start by learning the letters; how they are pronounced, connected and and their different shapes. So browse below to learn the letters.